Thinkers think. Doers do. Thinking Engineers combine the two.
We build innovative and modern web-based solutions that make it possible to reach technology at its finest. Our highly optimized development process ensures superb results.
Our Business Offer
About
Short Introduction
In 2011, first freelance jobs gave birth to a major business idea. We started with small steps, but we have always dreamt big. Due to our systematic and well-thought-out approach to meeting our clients' requirements, as well as meeting deadlines, we were drawing more new clients and new projects as time went by. The year 2014 played a vital role in our story. It was then that we started working on the most significant project until that moment – eCommerce solution implementation and integration with ERP and marketing systems. A team of highly devoted professionals with an engineering mindset set the grounds for continuous project improvement.
By the end of 2015, we had built a team named Thinking Engineers, a group of experts who tackle every issue with equal commitment, always at the same high level of professionalism.
Cutting Edge Tech Stack
Click on technology to visit official documentation
Guided by Perfection
High Performance
Our systematic approach to problem solving joins forces with cutting edge software development to ensure high-performance and reliable applications. Dedication to each and every task and constant desire for growth and superior results propel our team performance. And a high-performance team delivers high-performance apps.
Perfect Communication
Effective communication is essential to lay the groundwork for mutual satisfaction. We devote particular effort to listening to our clients' requests and elaborating a thorough project plan to answer their needs. Each solution we reach is fully documented, covering every aspect from technical to user documentation.
High Availability
Reliable and advanced alerting systems allow us to detect any potential issue early enough and solve it before it leads to failure. We are always willing to go the extra mile to ensure high availability at all times and bring downtime to a minimum. With our pinpoint alerts, even managing high traffic websites goes without any major hiccups.
Efficient Workflow
Great organization leads to amazing results
Detailed Planning
We believe that meticulous planning and preparation of every activity is what constitutes a solid foundation for every following step to take. When developing a system, we create elaborate macro and micro plans, thus covering every step from system architecture design to task management.
Development Process
To make sure the development process builds up steadily, we rely only on state-of-the-art technologies and the highest standards to develop software. The technologies we use are reliable and have a large community, which allows for the development to run smoothly and ensures long-term solutions.
Vigorous Testing
High quality and attention to detail lead to extraordinary solutions. To get to the top, we rely on a system of thorough testing on different levels, such as unit testing during the development of every feature, and integration, user acceptance, and performance testing before every deployment.
Work
App Case Study
Social Thinking eCommerce Platform
Social Thinking is a growing company with a noble goal. The purpose of their work is to help people of different ages and mental abilities find their way through the complex social world, relying on unique strategies developed by a team of devoted and diligent experts.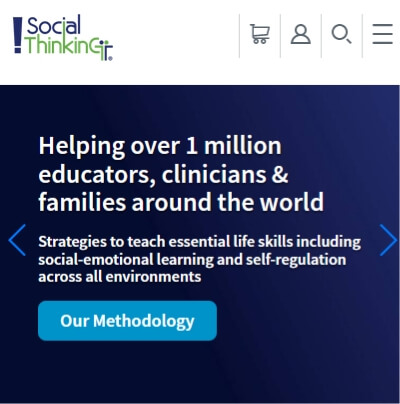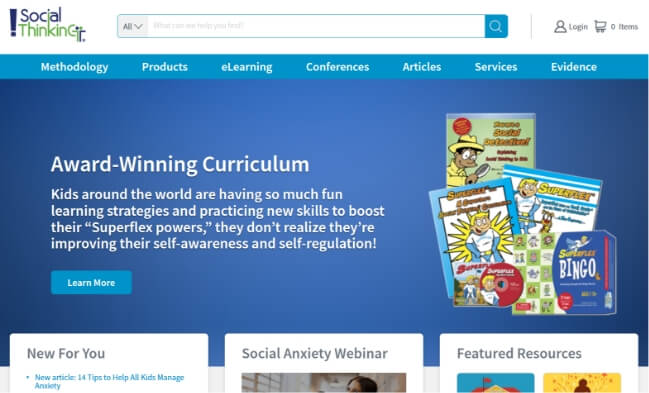 Social Thinking wanted to implement a more efficient eCommerce solution to ensure more convenient feature implementation and facilitate future project development.
Read More
Others About Us
Michelle Garcia Winner
CEO & President of SocialThinking
We have been really pleased with the communication, problem solving & team work of the entire team. Thank you all for your help with making our technology and related systems sing in harmony!
Ivana Pignatelli
CDO of SocialThinking
I am truly grateful to Thinking Engineers for their incredible professionalism, knowledge, dedication and partnership for close to 5 years. Together we were able to launch a completely new website along with a revamp of all our backend systems. Sitecore, Coveo, Active Commerce and Microsoft Dynamics (Great Plains). Thinking Engineers has consistently gone the extra mile to ensure our success with every release. I have worked with many many engineering teams throughout the years, and Thinking Engineers is by far the best in class.
Career
Work With Us
We are in search for talented people to join our team
.NET Developer
We are always eager to welcome skilled .NET developers with experience in building scalable and distributed software systems to our team. Potential candidates should be familiar with best practices and object-oriented programming design principles.
More Details
Front End Developer
A desirable front-end developer has an enviable knowledge of modern JavaScript frameworks, shows the ability to achieve pixel-perfect development, and uses the previous professional experience as a source of new ideas and fresh approaches to problem solving, among other qualities.
More Details
QA Engineer
Are you a highly detail-oriented and analytical person? Do you have experience in both manual and automated testing? Do you have knowledge of the entire testing process, and you're eager to broaden that knowledge through hard work? You could be a perfect fit for our team.
More Details
Contact Us
Want to hire us or to work with us? Drop us a line!